The Heart of the Olympic NF

So once again, Ryan Todd And I set off for another adventure. This time our destination was the Olympic National Forest. I was excited about this trip. I had heard that the Olympic NF was a spectacular area to explore, and I was not disappointed.

Planing this trip seemed to be much

easier

than the Wonderland trip. I think this was due to the things we learned from last years trip around Mt Rainier. The hardest part was getting the last minute things ready. I was out of town in

Las

Vegas for my friends Jason & Sara's wedding. Ryan and Todd were busy with things as well. One of us needed to find some time to prepare the dinner meals. This is a time consuming task of cooking, dehydrating, and packaging food for the three of us for the entire trip. Because I was out of town and would not get home until the day before we would leave, there was no way I could get all the food ready in time. We decided Ryan was in the best position to get the food ready.
Before I left for

Las

Vegas I loaned Ryan my food dehydrator and the recipes that I used the year before. The only problem was, I had to modify the recipes to make them work, but I failed write any of that info down. When I got back to town I called Ryan to see how he was doing with the food prep. Ryan had gotten everything cooked up and dehydrated all that needed to be done was package it. So that night I went over and helped Ryan get everything sealed up and ready to go.

I finished helping Ryan and headed home so I could finish Packing my gear.

Gear list for my pack was the following:

On Body Gear- nylon t-shirt, nylon convertible pants, pair of trekking polls (
REI
Ascent
SL
), internal frame pack(
REI
Saturn), wool blind socks, hiking boots(
Garmont
Dakota)

Clothing- nylon t-shirt, nylon convertible pants, medium weight "Dry Light" long sleeve shirt, rain pants, rain jacket, flees pants, flees long sleeve shirt, 2 pairs of wool blend socks, 2 pairs of undies, stocking cap, flees gloves

Bedding- solo tent, therm-a-rest mat, 20deg synthetic mummy bag

Cooking-
MSR
pocket rocket stove, titanium pot, titanium
spork
, 1- 8oz fuel canisters, lighter, water proof matches, Sweet Water purifying pump (with a 2 liter water bag), 100oz water bladder, 32oz
Nalgene
bottle

Toiletries- roll of
TP
, pack towel, sunscreen, chap-stick, toothbrush

Navigation- water proof map, compass

Mic- 1 locking
carabineer
, parachute cord,
Petzl
LED head lamp, 3 extra zip-lock bags, camera (2 extra batteries), watch, whistle, first aid kit, iodine tablets, 2 extra compression straps,
Croc's
, sunglasses, ibuprofen, pocketknife, drivers license,
bandanna


Food- Breakfast: 7 days of oat meal(2 packs/day) Lunch: 9 Cliff bars (1 per day + 1 extra), 8 Power bars (1 per day), 1- 1/2 pounds of beef jerky (rationed for 8 days), 1- 1/2 pounds of trail mix (rationed for 8 days), 5 GU energy gels (for that extra kick when needed), powdered Gatorade mix (64oz of drink per day) Dinner: Gravy & Rice (2 packs of country gravy mix, 3 cups instant rice)[feeds 3]; Spaghetti (1 pound ground beef, 2 envelopes spaghetti mix, 4 cups dried pasta) [feeds 3]; Chili (1 pound ground beef, onions, bell pepper(red & Green), 1 beef bullion cube, assorted spices...All dehydrated)[feeds 3]

After a late night packing and repacking gear, I got some minimal sleep before Ryan came by to pick me up. We got an early start around 4:30am, as we had a long drive ahead of us (5 Hours +/-). We still needed to meet up with Todd in Oregon City. We took both Ryan and Todd's pickups, this way we could shuttle the 15 miles of road that we didn't want to hike.


We
arrived
at the Quinault Ranger station around 9:30-10am. The three of us went inside to get out permits and each rent a bear can. We each had a hell of a time cramming our 8 days of food into these bear cans. Only then to have to find room in our packs for them to fit. Some how we were able to make every thing fit, and we were on our way to run the shuttle. We dropped Ryan's pickup off at Graves Creek and piled into Todd's pickup and drove around to the next drainage, the North Fork Quinault River.

It was now that time that I dread...putting on that big heavy pack. After a few grunts, groans, and strains we where on the trail headed for Elip Creek. This would be our first camp.


Ryan checking out the sign/map at the trail head

The Olympic NF is an amazing place full of monster old growth trees.

Me posing with one of many massive trees.


When we reached Elip Creek we found the place pretty much d
estroyed by storm and flood and storm damage. The bear wire had come down and the door to the outhouse was no longer of use. There was not much left for camp sites eather. Out of the two spots that had not been completely destroyed, we were left with one. The other site was already occupied by another group. It had been a long day, and we didn't feel like pushing on to the next camp (2 miles farther). So we set up camp next to the outhouse and trail. With out a bear wire and not enough room to fit all our
food and other scented items in the bear cans we had to do our best to stash it somewhat out of the bears reach and away from camp, and hope for the best.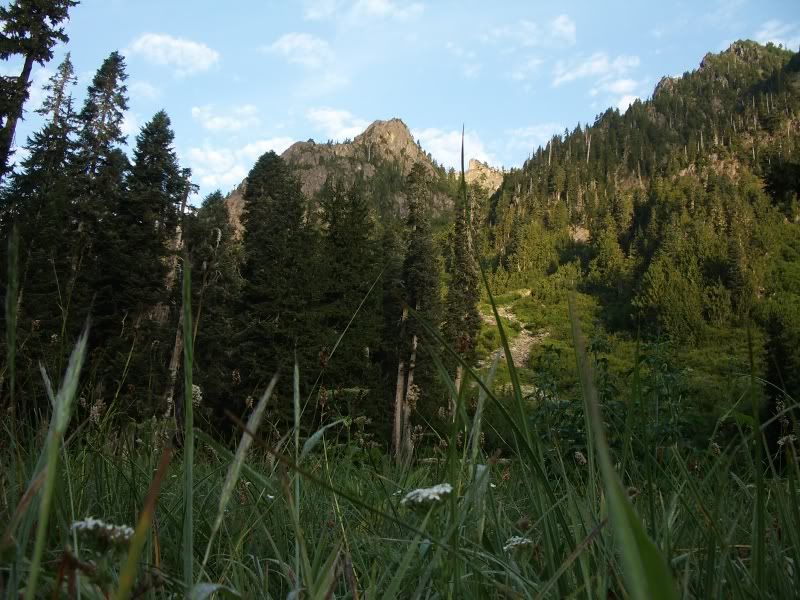 The next day everything was just as we had left it. After a quick breakfast we packed up and headed up the trail to Low Divide. This would be our next camp and is the divide between the North Fork Quinault River drainage and the Elwha River drainage. It became apparent that we were in bear country, looking around you could not help but see all of the berries that were all around us.
Huckleberries, wild Blueberries, Salmon Berries all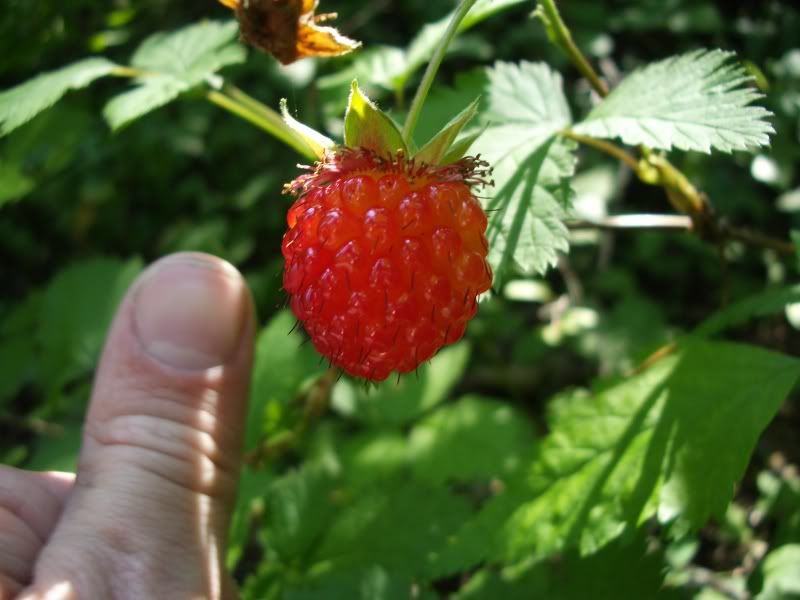 as far as you could see.











Shortly after reaching Low Divide and relaxing a bit another group of hikers hiked through, and asked if we had seen the bear that had been in the meadow not more than 100 yards from our camp. Of course we had not had not seen any bear but it reminded us that we needed to be sure to keep our supplies out of reach of the bears. That night I woke up a couple of times hearing things
rustling around in the brush. I tried using my light to see what it was, with no luck. what ever it was it sounded big. The next morning when we got up I was able to determine what our night visitors were. About 20ft from my tent in some tall
vegetation
you could see that a couple of elk had bedded down during the night.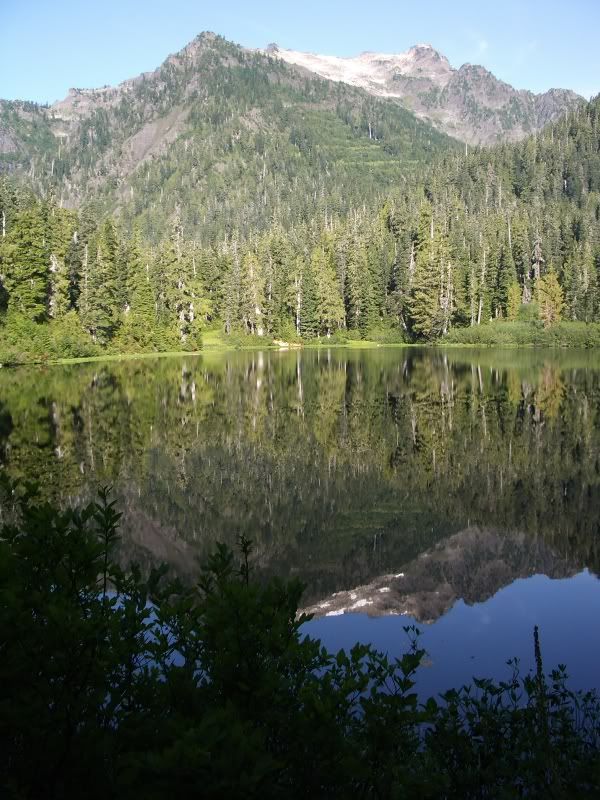 As we started down the trail for day three Todd and I heard something off in the trees crashing around. As we looked into the shadows we could see a large bear bounding off deeper into the forest. We had to cross the Elwha River a couple of times as we made our way to Hayes River for our next camp.
Ryan & Todd wading across a shallow spot.
At Hayes River Ryan and Todd found a nice camp site next to the river. We spent the remaining afternoon relaxing and tried to mentally prepare for the "never ending climb" up to Haden Pass the next day. Later that evening after we finished dinner we had some visitors wander through our camp. A doe and her fawn, they didn't seem to have a care in the world. We hit the sack early so we would be well rested for the "never ending climb"
Day four was going to be long day and so we got an early start. The mileage we had to cover this day was around 12-13 miles. With 8.5 of those miles climbing up to Hayden Pass gaining about 4000ft of elevation. As with most long climbs, I had to drop my pace and take my time. This was no exception. I'm not sure what my pace dropped to but when I caught up with Ryan and Todd at the top, Ryan said that they were just about ready to come back looking for me. I guess that they had been waiting for about 45min-1hour before I caught up.

Ryan & Todd at the top of Hayden Pass
We still had about 4 miles left to descend before we would reach Bear Camp for the night. I was able to keep pace with Ryan and Todd the rest of the day as we made our way down into the Dosewallips drainage.
The next morning we continued our way down the Dosewallips River. This was a some what easy day, with little excitement on the trail. That was until we reached our camp at Dose Forks. We had set up camp and cleaned up a bit, sitting around relaxing. Todd and I were sitting in the camp site talking about the day. Ryan had found some sun to lay in near the trail. As we were chillin' out, here comes a train of pack mules. Ryan must have done something to piss off the lead mule. As soon as that mule got to Ryan it bolted off the trail and into our camp, nearly running over Ryan in the process. After all the excitement with the mules, and watching a winy group of boy scouts pass by we decided it was time for dinner and some study of the map before bed.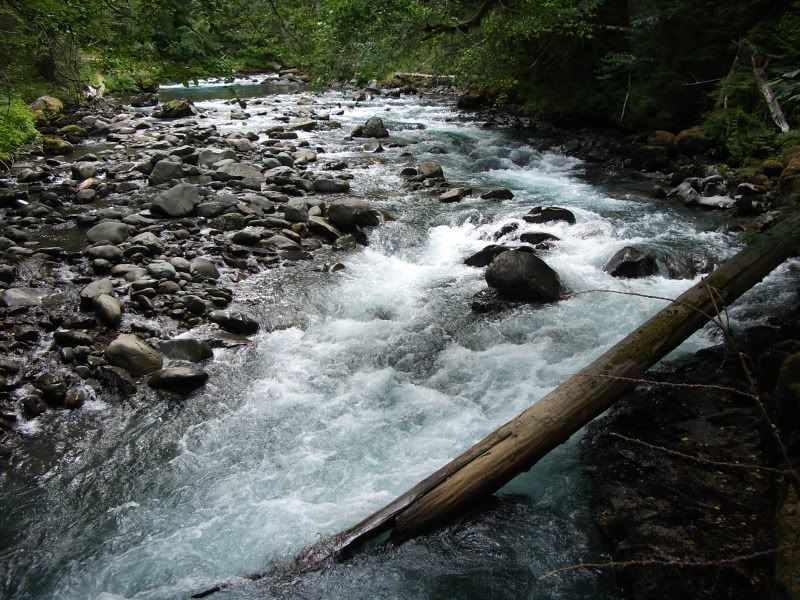 The Dosewallips River along side our camp.
Day six was short and easy, 8.5 miles or so. We wanted to save our energy for a side hike up to Anderson Glacier the following day. And thinking that the next camp might be a popular one, we wanted to be sure we were the first group to get to the Honeymoon Meadows camp area early to get the best spot. We passed the boy scouts as the were still sleeping, along with catching up to and passing one or two other groups and a trail maintenance crew on the trail. When we arrived at the Honeymoon Meadows Camp area we were a bit disappointed with the choices we had for camp sites. The choices were on the side of the hill near the outhouse with no level ground, or the boulder garden(grass covered rocks the size of a basketball and bigger), and the spot that we chose...a small semi level patch of gravel almost too small for our tents. Soon the camp area was full and one group set up their camp in the middle of one of the trails that lead down to the river bank.
The next morning we got an early start, beating the other groups out of camp. It was a short hike up to Anderson Pass. We ditched out packs in the bushes and headed up to see Anderson Glacier(or what was left of it anyway).

360 view at Anderson Glacier
After exploring around Anderson Glacier we made our way back down to the main trail and continued on our journey. On the way down into the Enchanted Valley, Ryan pealed off the main trail wile Todd waited at he intersection to direct me to the "Worlds Largest Western Hemlock".
As I made my way down to where Ryan was something caught my eye. I stopped to see what it was. Holy crap!! it was a bear walking right at Ryan. Ryan was able to snap this picture as "Yogi Bear" peaked around the stump. The bear then spooked and ran off across the creek bed. After the excitement of seeing a bear up close (almost too close), we continued on. A short ways farther down the trail we encountered another bear on the trail that quickly ran off into the brush. Entering the Enchanted Valley was really amazing. Almost vertical walls of rock towering thousands of feet above the valley floor surrounding us. Just as amazing was seeing the flood damage that had occurred in recent years, and to be so close to the head waters. The flooding devastated most of the camp sites and nearly undermined old chalet that is now used as a part time ranger cabin.
Because of the popularity of the Enchanted Valley and the lack of sites that had not been turned to a boulder patch, we continued on down the trail to Pyrites Creek. This was a good choice, as we did not have any other campers near by and it shortened our last day by about three miles.
The last day was pretty much a blur. My camera batteries were all but dead and we all had pizza on our minds. We got back to Ryan's pickup, loaded up and drove around to puck up Todd's pickup. Then it was pizza time.
Over all it was a very enjoyable trip. It would be fun to go back and see some other areas of the Olympic National Park.
Click here if you would like to see Ryan's trip report
.